Metadata as a boost of Data Quality
Do you measure the value of your organization's data in the digital scenario? Today its scope has spread since it is capable of boosting companies if it is well managed. Data can provide control over financial numbers and also facilitate user experience when a client purchases a service or product due to data capability of recording the customer's potential based on their digital behavior.
However, there is one aspect that you never forget about data: its DNA, its metadata. But, it may go unnoticed due to its role inside large data volumes which specialists work daily with.
What is metadata?
Metadata, as strange as it seems, is data within data, and it works to identify specific characteristics in the data from a database or system. As a consequence metadata role is often perceived as not being the main focus since in an information management system it only represents a small portion of the cluster.
Metadata can be identified in the record of a file such as an author, date of creation or modification, weight, currency, etc., and it is the answer to who, what, when, where, how, and why regarding information. Metadata is in charge of showing if a database is structured correctly or if there is something that is not being managed as it should; metadata is behind each cell or field, however, some users do not use it because it is not the main character, even so, metadata is the writer of the movie.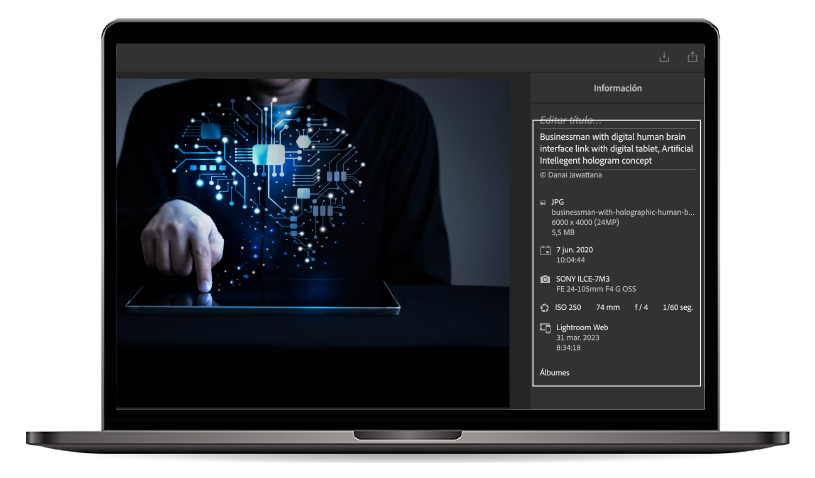 Consequently, metadata impacts other areas. Metadata starts the path toward data quality since it allows data to be easily integrated and used.
With metadata, scientists and analysts are able to execute precise work due to the information that is being managed: they check if it complies with standards allowing teams to extract great value from available data and not investing time in correcting or processing errors.
It is essential to know some benefits of metadata and how they can revolutionize your organization's operations and processes. One of them is quality, a core area where you should pay a lot of attention and which we will delve into later.
Metadata types
To be deep in the quality field, it is first necessary to know the metadata types that specialists work with. Although there are multiple types, these are the most decisive.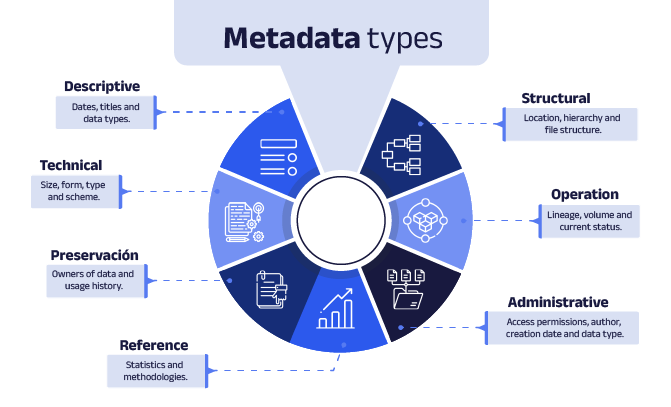 Descriptive: Provides context of the metadata in terms of owners, dates, titles or types of data. They are very useful to reduce searching time.
Structural: Includes information about how data is organized. Responds to the location of the data, its hierarchy, and the structure of the file.
Operational1: Allows users to identify data from when they were created or transformed and how it happened; likewise, it collects lineage, volume, and current status.
Administrative: This type is linked directly with permissions; e.g. who has access to data, but does not rule out type, author, and date of creation.
Technical: Covers the types of data within a database; includes size, shape, and more digital specifications such as type or scheme.
Preservation: This is metadata used in the preservation of data. It collects information such as who the owners are or what it has been used for, and it helps to know if data has not been corrupted.
Reference2: Provides statistical information and methodologies that are used for data collection and generation.
By executing metadata, it becomes active, a strategy that will benefit you in processing information since it constantly generates enough insights so that any operations or logistics teams achieve their objectives in an optimized way.
Once metadata is recognized by its type, it is necessary to know how to manage it. After this step, there it Metadata Management; TIBCO defines Metadata Management as a business discipline where data is obtained from data, in addition to giving meaning and value to business information for its use. The aforementioned will be the tool to get enough data quality that will impact your company's development.
Impact of metadata on Data Quality
Standardizing your data means finding reliability and precision to convert it into value thanks to the quality, thus leading your company to a field where it competes with excellent technological tools and accurate information.
In a scenario where data assumes an important role, metadata also becomes key for processes. Data Management can lead to conquering the data quality territory since this strategy enables IT teams to detect errors or missing information.
Sharing the importance of metadata and its value is the first step to take in an organization.
What other areas does metadata impact?
Discovery

: Metadata helps

data profiling

flow smoothly since it reveals key information such as formats or patterns.

Understanding

: Data analysis is possible if it is understood. In this case, metadata facilitates this step since it avoids gaps in the information due to previous classification.

Cleaning

: Missing metadata is also a signal that contributes to the detection of errors or lack of information, its presence makes this strategy more efficient.

Lineage

: Keeping track of the data becomes an efficient task due to the information that the metadata provides to each piece of data.
In order to achieve the quality that every data specialist hopes for, there are also some useful practices to execute according to The ECM Consultant. In order to get reliable and accurate metadata, consider this:
Define standards and regulations

to ensure all metadata complies with organizational guidelines.

Use a single document to

define the use of tags and keywords

, which must be limited.

Create a metadata template

that serves as a guide to determine what metadata should be available and how to use it.

Assign a person in charge

per area who keeps up to date the document where the rules for the use of metadata are established.

Develop a workflow

capable of ensuring that registered metadata is correct.

Track metadata modifications

and support them, considering that metadata can also change frequently.

Always keep your metadata updated

, so all your content will be up to date to have adequate productivity.

Apply quality controls

in terms of metadata, this is because the information is changing periodically and requires compliance with specific parameters.
Achieving the objectives regarding metadata is viable thanks to specialized platforms that are optimized to achieve it. New tools allow tagging, defining standards, assigning roles and permissions, and looking at the lineage of the information, dates, owners, and changes, among more functions.
Precise Metadata Management can be shown in the performance of successful e-commerce, where the client, by typing a word related to the product they want and then receiving results accordingly. Taking this practice to an internal environment can also benefit your company and its teams, who could access information without setbacks and thus streamline processes.
Conclusion
Metadata is that potential that will allow you to convert data into assets and thus lead your company toward an optimal digital transformation. It has one of the most far-reaching roles in data quality; it permeates other departments or strategies such as cleaning, profiling, or standardization, which contributes to the quality of the information being expected by both internal (stakeholders) and external agents (customers).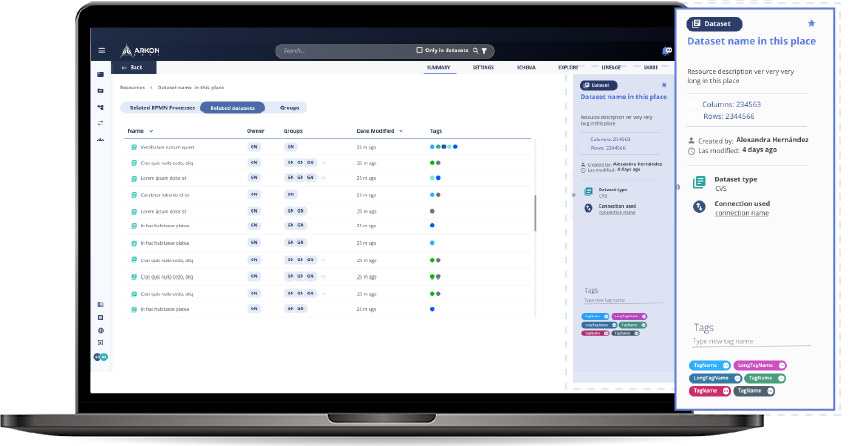 Metadata management is an area where Arkon Data Platform stands out thanks to the features that are designed to record metadata, which will allow you to manage them according to your needs. Why don't you check it out by yourself with our demo?
---
1 Zeenea, 2019.
2 Eurostat, 2022.